Copper and Gemstone Rings
Ever since I can remember I have loved wearing rings. As a young child I 'borrowed' my mother's ruby ring and wore it until I lost it. OK… that mishap aside, I can now manage to keep them on my fingers. Designing my own rings styles now makes perfect sense. Working with silver and copper allows me to stay with precious metals AND keep the prices of gemstone rings for sale affordable.

These copper rings and gemstone rings for women are created as a One-of-a-Kind Design. Southwest artisan rings with flair. Watch for new styles of hand made copper rings too, as I continue designing and experimenting with these unique gemstone rings.


One of my signature handmade copper rings designs is 'the snake'. I start with copper, use my hammer to add texture and then form several wraps to resemble a coiled snake. This design tends to snuggle up to the knuckle. Lots of fun to wear.
Comments from my customers have lead me add gems to this signature collection. The pop of color gives me so many options. For the most part I center the stone on the front of the coil. These unique styles are so classy! They make beautiful gemstone rings for women.

My second signature design is the 'wrap-around'. The metal overlaps offering some 'give' in the sizing of copper rings for women. And the best part is that the overlap creates an unusual element not obvious to the casual observer.
This style goes up or down one size to counteract 'fat finger' day. Ever had one of those? You slip on your unique gemstone ring and for some reason it will not fit. We all experience this. It may be the moisture in the air that day, something we ate or any number of other reasons.

These copper rings and gemstone rings for women are created as a One-of-a-Kind Design. Southwest artisan rings with flair. Watch for new styles of hand made copper rings too, as I continue designing and experimenting. There are many gemstone rings for sale too. Look for my signature inside the sterling silver ring to be sure you are wearing the real thing. Best of all, wear your selection and expect lots of compliments.!

Read my new articles on Cuff Bracelets, Copper Jewelry.
The Truth about Natural and Lab-Grown Gemstones
Did you ever wonder whether the gemstones in your jewelry are 'real' or not?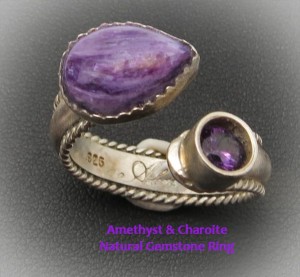 Well of course they are real, but did they come out of the ground?? or were they created in a lab?
Basically there are 3 types of gemstones; Natural, Lab-grown and Imitation.
Natural Gemstones
are found deep within the earth's surface. They have been formed over many years and without the interference of humans. They are removed from the earth, cut and polished to be made ready for your jewelry. Natural gemstones are the most valued and more costly. There is a limited supply of these gems and there are lots of man hours and equipment involved in getting these gems out of the ground. And Natural Gemstones will tend to have some imperfections, depending upon the quality.
Whenever possible I LOVE using natural gems. Many of my gemstone rings for women designs use natural Turquoise, Amethyst, Malachite and

more.
Lab-Grown gemstones have been created my man and as the name implies, have emerged from a lab!
Here's the great part. They STILL have the same physical and chemical properties of the natural stone. The advantages include; it takes less time and less man hours to create these gems. Plus lab-grown gems can be perfect, with no natural flaws.
I tend to use many of these in my designs of gemstone rings for women when the cost of the natural stone becomes prohibitive.
Imitation gems

are stones that are created from other materials such as glass, plastic or ceramic. They also can be created by color treating lower quality stones that would normally be considered waste. Howlite is a great example. This white stone is easily found and tends to have black or grey inclusions. When it is colored blue, it can simulate turquoise. These 'genuine fakes' have a place in the costume jewelry industry.
Bottom line: it doesn't matter which you prefer as long as you know what you are purchasing. Always buy from a reputable designer. that way you will be assured of getting the gem you want.


Tiger's Eye Gemstone: Legends and Facts
Tiger Eye (also called Tiger's Eye) is a semi-precious gemstone from the quartz family. It is easily spotted by it's luminescent band that resembles a cat's eye (or tiger in this case!!)

Mostly you see these in brown tones, but they can also be seen in red tones or yellow tones… all with the tell-tale band.

I love working with this gemstone. The brilliant 'band' seems to move about as you gaze at the gem. Since there are so many brown and gold tones in tiger's eye, it blends so well with silver metals and sparkly champagne colored CZ's. This unique gemstone ring I wear shows you what I mean!

The Tiger Eye was traditionally carried as a talisman to ward against ill wishes and curses. It is considered a balancing stone, reeling us in when we want to go to extremes. This gemstone has high energy so wear it when you want to increase your vitality and strength.

Legend says that tiger's eye helps us be more creative. (cool!)

The Solar Plexus is the corresponding Chakra for Tiger's Eye.

Check out my web site for Tiger's Eye and other gemstone rings for sale.

If you liked this post you may like Amethyst Gemstone
(see gemstone rings for women here)



CZ: Do you LOVE IT and WEAR IT?
Cubic Zirconia that is! This gemstone is often used as an alternative to diamonds.
The price range is less but the quality is top knotch! All the gemstones in this collection are cubic zirconia.
A few facts:
Cubic zirconia was discovered as a natural mineral from in 1937

The form you see today is a synthetic (man-made) version

Cubic Zirconia is

an

8 on the

Mohs Hardness Scale

. Diamonds are a 10

CZ can be cut differently. Faceted edges can be rounded or smooth

Experts can tell the difference between the two because of the difference in their thermal conductivity.

That being said, the average person cannot tell the difference!
What do I love about it? I can add these gemstones to my designs to provide sparkle and pizazz.. at a fraction of the cost of diamonds.

Here are a few examples of how I use them

:

I used 3 CZ stones here to bring out the colors of the jasper stone.

Amethyst gem is highlighted when I add a purple CZ gem.

What are your thoughts? do you love the versatility of these beautiful stones??

If you enjoyed this post you may like Rhodochrosite: good for the Heart

(shop for unique gemstone rings here)


Amethyst; My All-Time Favorite Gemstone
Ever since I can remember, I have been in love with Amethyst.
Before I began my Jewelry Designer Career, I purchased Amethyst creations from other artisans. I still wear several of the pieces today.
The rich purple in this gemstone is intoxicating!
This Geode showcases the gem perfectly. ( I have at least 4 Geodes in varying sizes too!!!)
All February Babies share this love with me, right? after all you are the lucky ones to have amethyst as your birthstone. (I am a little jealous).
But the rest of us are allowed to own and savor 'the purple' too.
Did you know that amethyst is considered to be the Stone of St Valentine? He is said to have worn an amethyst ring engraved with the image of cupid.
Legend has it that Bacchus, the Roman god of wine, was so angry with mortals that he vowed to feed the next human he saw to the tigers. A maiden named Amethyst was that human. But before Bacchus could incur his wrath, Diana, the goddess of nature, changed Amethyst into a pillar of quartz to save her. Thus was created the first amethyst gemstone!
Guess W
hat?? The Greeks believed that wearing amethyst prevented drunkeness! Hence the greek name amethustos, meaning 'not drunk' Dont try this yourself though. I am PRETTY SURE, this is just fable!!
Amethyst is said to have strong healing powers. Many wear this unique gemstone during meditation as it tends to enhance our spiritual connection.
Cold hard facts:
Amethyst is a member of the Quartz family

Amethyst has a hardness of 7 on the Mohs Scale. This means it is durable enough to use in almost

any setting, including rings.

Amethyst is readily found. There are active mines in Brazil, Mexico, Russia and Uruguay.. to name a few

Cleaning is easy. Ultrasonic works as well as plain old soap and water!

Next time spot an artisan Amethyst design… jump at the chance to purchase it
I have several pieces available too. (OK just a tiny sales pitch).

Click here to see.
Having a 'Fat Finger' Day?
It happens to me all the time.
In the morning, I put on one of my rings; lo and behold…. it is too
tight

.

Seriously? it fit me last week? and I am pretty sure that weight gain or loss has marginal effect on the fingers. This ring is a good example. I wore it yesterday as shown and today it was too tight.

Don't have a clue what all the reasons are for swelling of the fingers. Sometimes it is just the humidity that day. Perhaps it is affected by our hormones, or by certain drugs we start taking.
All I know is that this phenomenon pushed me into designing my copper rings and my gemstone rings so they can be adjusted up or down a size. In this example, this feature allowed me to stretch the band slightly so the gemstone ring fit my fatter finger. YIPPEE!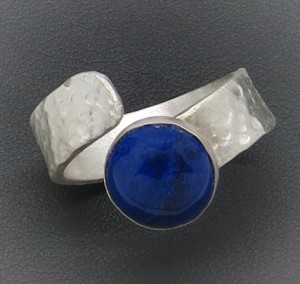 My Copper Rings for Women and my Unique Gemstone Rings Collection is comprised of 80% adjustable (yet classy and rich looking) designs.
The design to the left (silver and lapis) gives you the options of pinching or stretching the band slightly to fit your finger of the day.
These wrap designs are my favorite though. The adjustable feature is more subtle. So much fun to create. Handmade copper rings are also designed primarily in this wrap design. You can find my gemstone rings for sale here.